Childhood
I was born in Colombia, South America, the youngest of four children of missionary parents. We lived in a rural area in northern Colombia, so I grew up speaking Spanish before I learned to speak English. Through this childhood experience, and my father's interest and example, I gained an early appreciation for cultural and linguistic diversity.
Education
I attended Carmel Colony School in the mountains of Magdalena Department in Northern Colombia, where I first met the Kogi Indians.

I came to the United States for high school at Ben Lippen School, then in Asheville, NC. After graduating, I studied at Columbia Bible College, where I earned a B.A. in Biblical Education in 1974. I also studied linguistics, anthropology and computer science at the Universities of Oklahoma, Minnesota, North Dakota and Texas (at Arlington), earning Masters degrees in Linguistics and Computer Science, and a Ph. D. Most recently I earned an M.Ed. in Higher Education (2004) from Dallas Baptist University, and an M.A. in Communication from Spring Arbor University to help me do a better job of teaching intercultural trainers.

My educational interests and thirst for knowledge have led to a personal commitment to life-long learning. Most recently, this has led to independent study and research in various aspects of Web design, computer graphics and graphic design. This in turn has prepared me to teach these subjects to others, including courses taught at the university level.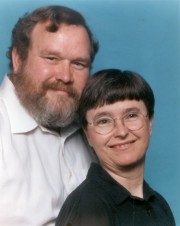 Family
I married Judy Carlson, who had grown up in Peru, South America, the oldest child of a missionary family.
We lived in Colombia for 14 years and our two children, Christie and Robin, were born there.